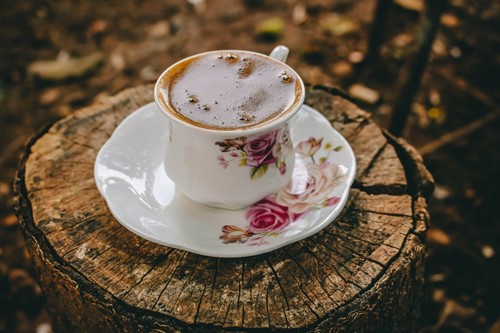 If you're looking to get into DIY furniture, end tables are the perfect place to start. End tables are small, versatile and useful in any space. You can even use them as accent pieces to make a bold style statement as well as provide excellent functionality. Here we've put together some ideas for DIY end table projects to help you get started.
Live Edge Slab Table
Live edge wood is a popular trend across many interior design styles. You can use this natural material to add rustic charm or chic mid-century modern vibes depending on how you choose to finish it. One simple way to turn a wooden slab into a table is to add hairpin legs. These metal legs come in sets and a variety of colors and finishes, adding a modern feel to your slice of nature.
If you can't find a truly "live edge" piece of wood, you can recreate the same look with a belt sander. Simply sand at alternating angles along the edge, making sure not to create too much symmetry or pattern. The more irregular the edge the more realistic it will be and all for just a little extra effort.
Tree Stump Table
What could be a better way to add a natural element to a space than with a tree stump? The great news is that you can make an end table out of a stump without it looking like you just picked it up from a campground. With some careful sanding and finishing, you'll have a beautiful and unique piece perfect for any rustic or eclectic room.
There are some important things to consider for this project. One is that natural wood needs time to dry out completely before it's suitable for furniture use. It depends on how dry the wood is when you get it, but it might take 6 months or more before it's ready. Therefore, while the upgrade process itself is quick, this project requires some planning. The other thing to consider is bark removal. Depending on the type of wood you use, there may be a lot of rough bark to shave off of the sides. This is another thing that could add to the time and effort in the overall project.
Clock Table
For a fun vintage end table, try upcycling an old clock face. The clock doesn't need to work—in fact this project is far less complex if it's just decorative. Open up the back of the clock to remove the mechanism so it's entirely flat. Pick a time for the hands to rest at and attach the base of your table. The process for this will depend on the material of the table base. If you're looking for ideas, try a round stool or overturned wire basket. Both will create a fun, eclectic table and a great conversation piece.
End tables are a wonderful gateway into DIY furniture. With the wide variety of materials and styles, you have countless options for creating unique furnishings you can be proud of.